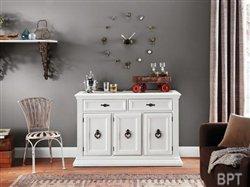 If you've ever looked around your house and gotten the urge to purge, you might consider pausing and first thinking about how you could transform that old, damaged piece of furniture or outdated light fixture into a fresh-faced showpiece for your home.
Not only are you doing something good for the environment – and likely your pocketbook – by restoring something, you're embracing your inner creativity. You can make a truly one-of-a-kind decor piece, tailored to your personality and style.
This notion of restoring and reusing items that would otherwise be cast aside to the junkyard or thrift store is called "upcycling," and it's a trend that has caught on quickly, especially in home design. With a little inspiration, creativity and the right tools, you can tackle countless decorating projects with things you already have around your home. And the best part? Upcycled pieces make for great conversation starters, often tell a good story and can even be sold for a much higher price than you put into them.
So where do you start? Here are some helpful tips for tackling your own upcycling projects.
Start with a little inspiration
Take a look through magazines, home design blogs and websites to gather inspiration. Look for pieces that catch your eye and have the same structure and "bones" as the items in your home that you'd like to restore.
For example, DremelWeekends.com is filled with inspiring and low-cost do-it-yourself projects, tool recommendations and step-by-step instructions to help you transform just about anything while bringing a new perspective to home renovation and decoration. You can even sign up to receive weekly project inspiration right to your email inbox.
Shop around without breaking the bank
Decorating your home doesn't have to cost a fortune. Look around your basement, attic, or at yard sales and consignment shops for free or inexpensive items that you might be able to breathe new life into. The old adage "never judge a book by its cover" would apply here. Do your best to look beyond an item's current condition and let the inspiration you've gleaned take over as you see its full potential in a different light. If the piece has some defects, don't immediately overlook it. Sometimes perfection and personality can be found in the imperfection.
Secrets of upcycling success
The secret to any do-it-yourself project is to plan ahead. Beyond finding the inspiration for a project, gather the supplies and tools you'll need, read up on step-by-step instructions, dedicate a roomy workspace where everything is at your fingertips, and be sure to carve out time to focus on the project.
But the No. 1 secret of upcycling success is to be patient and not get discouraged. If at first you don't succeed, try, try again. It's OK to make mistakes because sometimes you'll uncover hidden beauty during the process. The important part is that you find the whole experience of restoring and reusing rewarding.