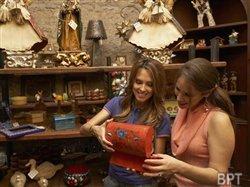 Collecting relics isn't a hobby just for Grandma and Grandpa any more. With the explosive popularity of TV shows centered around unearthing historic memorabilia and valuable pieces of Americana, searching for knickknacks and artifacts that make one-of-a-kind home decor is now a popular pastime for people of all ages. But how do you know the difference between what's really treasure and what's simply trash?
Larry Singleton, decor manager at Cracker Barrel Old Country Store, Inc., is an expert when it comes to collecting historic relics. Singleton and his family have been collecting for more than 40 years, providing real American artifacts, memorabilia and signage to the more than 600 Cracker Barrel Old Country Store locations nationwide. He offers these insightful tips for the next time you're on the hunt at a garage sale, flea market or thrift store:
1. Research and learn
Research and learn as much as you can before you shop. Watch TV shows, search on the Internet, visit local collector's stores. Discovering what's valuable and knowing what's currently in-demand helps guide you in making that "big discovery." It's important to be willing to invest the time and never be afraid to ask questions.
2. Know your interests
If you have an interest in a particular type of item – such as vintage advertisements, folk art or children's toys – familiarize yourself with what makes a piece authentic and what might indicate a reproduction. Plus when you have a personal interest in the item you're seeking, the hunt becomes that much more fun.
3. Keep a smartphone close
A smartphone can be a treasure hunter's best friend because you can conduct research quickly while on location. You can also research similar items to compare prices and see if the price is reasonable or inflated.
4. Know an expert
Keep an expert's number on hand – every collector runs into questions and having a knowledgeable contact you can call or to whom you can send a picture is invaluable. Good resources include community associations, historical societies and friends or family members.
5. Network
One of the best ways to learn about items as well as where to find them is to talk to likeminded people. Treasure hunters and collectors love to share info on what they collect, buy and sell. Use this information (and camaraderie) to your advantage.
6. Know the story
While some items might have plenty of monetary value, other historic relics might be valuable simply because of the story they tell. Seeking historic artifacts and memorabilia provides a piece of decor that is more than just pretty; it's a conversation piece when guests visit your home.
These expert tips are what Singleton follows to find the authentic memorabilia that decorates all Cracker Barrel locations. Each store has about 1,000 artifacts displayed, giving patrons a taste of American history. You, too, can create an interior space that pairs modern comfort with the panache that only unique historic relics can bring to a home's decor. Start your own treasure hunt today.