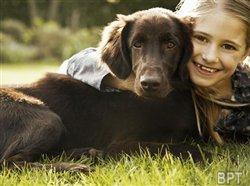 Fleas and ticks are on every pet owner's radar when warm weather flourishes. This is the season when both pets and people are itching to get outside, but without proper protection, four-legged friends can end up itching even more. However, if fleas and ticks take hold, and an infestation starts, this seasonal concern can turn into a year-round headache. That's why many veterinarians advocate parasite prevention all year long.
Taking precautionary measures will protect your pet from much more than a few bites. Ticks and fleas can spread a range of ailments and diseases – from Lyme disease and tapeworm, to flea-bite anemia. While several are downright uncomfortable, some can be very severe for your pet, and even you.
Fleas and ticks are so tiny that, if they get into your home they can easily hide in carpet, furniture, and other nooks and crannies. In the warm environment of your home, they can survive year round, no matter where you live, leaving you and your pets exposed to irritation and disease.
"Protecting your pet from these pests is as good as protecting your home," says veterinarian Dr. Liz Hanson of the Corona del Mar Animal Hospital in Newport Beach, Calif. "When you have a healthy pet, it's more likely that you'll have a healthy household. Luckily, setting a protective barrier against fleas and ticks is quick and simple."
Follow these tips from Hanson to ensure that your pets are effectively shielded from fleas, ticks and other pests:
* Don't assume that you have to spend a lot of money. If you're weighing the costs of medication versus infestation, look for lower-cost options that are still highly effective. VetGuard Plus (www.vetguardplus.com) is a triple action formula that is effective at killing, preventing and repelling pests such as fleas, ticks, lice and mosquitoes. VetGuard Plus exceeds the pest-control claims of similar medications, but is available at significant cost savings.
* Choose what's right for your pet. Cats and dogs have different tolerances, so choose a medication that is appropriate for the species and size of your pet. VetGuard Plus is a vet-grade quality product available for small, medium, large and extra-large dogs. In addition, VetGuard is also available for cats.
* Apply medication properly. Topical flea and tick treatment should be applied directly on the skin in one or several spots along the top of the neck or back, and in areas your pet cannot reach by mouth. Be sure your dog or cat is completely dry before applying and do not bathe for several days after the application.
"Keeping your pet and your home flea and tick free should be a year-round priority, and if you shop smart, you can save on quality flea and tick control for your pet," Hanson adds.