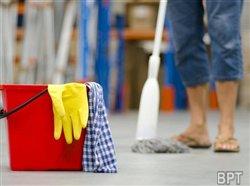 A long winter season can leave you and your family longing for outdoor activities. Before you head for some fresh air fun, you need to get your home in order for the spring and summer months ahead.
Spring cleaning can be a drawn-out chore, but that can change this year. The key to a quick and painless deep clean involves staying organized, having the right tools on hand and keeping track of time to ensure a quick and efficient job done right the first time.
"Let's face it, very few people actually get excited about spring cleaning, but with a little planning and the right tools, it doesn't have to be such a chore," says Alison Gutterman, president of Jelmar, a leading seller of cleaning products. "Start your spring cleaning with a powerful, multi-surface cleaner to get rid of the grime, gunk and water spots that have built up over the winter months and go room by room to tidy up. Perhaps most importantly, once the big job is over, it's important to maintain a level of cleanliness so you aren't faced with a daunting spring cleaning task next year."
Spring cleaning tips:
Assign and attack: Everyone contributes to dirtying a home over the year, so having everyone also contribute to tidying it up is important. Assign a leader and have each member of your family say what area of the house they feel they can tackle best, ensuring everyone is comfortable and able to quickly and effectively clean their section.
Assess the problem areas: Take your family cleaning crew on a quick walk-through of the home and identify areas that need the most attention. This will allow you to supply your crew with the right set of supplies and allot them the proper amount of time to get the job done. Add an extra hour to normal cleaning times for each area, since this is a deep spring clean.
Arm yourself with the right tools: Nothing is worse than starting your spring cleaning and realizing you do not have the right cleaning supplies to get the job done in one take. For discarding old, unnecessary clutter, try using durable trash bags and solid cardboard boxes to ensure nothing falls apart and it makes it out the door. For cleaning, pick up a powerful multi-purpose cleaner like CLR that cleans away built-up grime, white residue and hard water spots that have collected on neglected surfaces like ceramic tiles, shower doors, toilet bowls and kitchen counter tops.
And one final walk through: Once you have tackled your spring cleaning list, take a final walk-through to make sure you covered every nook and cranny. Hidden dust and tarnish can be hard to spot the first time around so make sure to take a cleaner like Tarn-X with you for a quick and efficient last-minute cleanup. Taking the family with you on the final walk-through will show everyone all the work that goes into keeping a house tidy all year.
Take a big, deep breath of relief because you just finished this year's spring cleaning – and in record time. Throughout the year, your home won't keep itself clean; make sure to keep the right cleaning supplies on hand for quick cleaning jobs and touch-ups. Now go outside and enjoy some springtime activities – you deserve it.