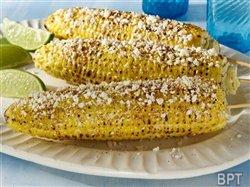 Spring has sprung, along with one of the sweetest treats of the season – fresh sweet corn. Over the last few years, fresh sweet corn has become a spring vegetable that's just as highly anticipated by those in the know as the season's first peas, asparagus, and radishes. Available nationwide, fresh sweet corn is harvested throughout the spring – good news for anyone who wants to get their hands on some today.
The spring season begs to be celebrated outdoors and there's no better way to entertain on a warm spring day than firing up the grill. This Cinco de Mayo, reunite your barbecue with one of its favorite partners – fresh corn on the cob. Get into the holiday with this recipe for the irresistible and classic street food, Mexican-style Grilled Corn. Grilled ears are slathered with mayonnaise, sprinkled with cheese and dusted with chili powder for a spicy and creamy coating to the kernels bursting with sweetness. A squirt of lime makes all the flavors come alive.
For a delicious appetizer or party snack, try whipping up a batch of Savory Fresh Corn Fritters. Cutting kernels from the cob is safe, easy and clean with the right technique. Using Greek yogurt in the batter offers an updated and healthful twist to this southern-fried classic and are delicious on their own or served with your favorite dipping sauce.
Surprising to many, Florida is the largest producer of sweet corn, and has been for more than 50 years. The long growing season lasts throughout the winter and comes to a peak in April and May, just in time to produce corn for your favorite spring dishes. You can find helpful tips and tasty recipe ideas to please even the pickiest eaters, big and small, at www.sunshinesweetcorn.com.
Sunshine Sweet Corn is grown by family farmers in Florida from premium and naturally bred corn varieties. Sunshine Sweet Corn stays sweeter longer so it arrives at your local market fresh and delicious. It is best to eat sweet corn the day you buy it, but can be stored in the refrigerator for up to three days.
Mexican-Style Grilled Corn
Ingredients:
4 ears fresh sweet corn, husked
1/4 cup mayonnaise
4 ounces cotija or feta cheese
1 teaspoon chili powder
4 lime slices
Directions:
Preheat grill or broiler. Grill or broil corn, turning occasionally until hot and some kernels turn golden brown, about five minutes. Using a knife, coat each ear of corn with about 1 tablespoon of mayonnaise. Crumble cheese onto all sides of the grilled corn. Sprinkle with chili powder and a squeeze of lime.
Yield: Four portions
Savory Fresh Corn Fritters
Ingredients:
2 1/4 cups fresh sweet corn kernels, cut from three to four ears
1/2 cup cornmeal
3/4 cup full-fat Greek yogurt
3 tablespoons olive oil
3 eggs, separated
2 scallions, finely chopped
1 teaspoon salt
1/4 teaspoon pepper
Directions:
In a large bowl combine corn, cornmeal, yogurt, two tablespoons of the olive oil, one egg yolk (discard other two yolks), scallion, salt and pepper. Mix just until combined. In a separate bowl beat egg whites until they form soft peaks. Fold egg whites into corn mixture. Place a large nonstick skillet over medium heat. Add 1 teaspoon of the oil. Spoon four heaping tablespoons of batter into the skillet to make four fritters. Cook two to three minutes until golden brown on the bottom. Flip gently; cook one to two minutes until cooked through. Transfer to serving dish, cover to keep warm. Repeat with remaining oil and batter.
Yield: about 12 fritters