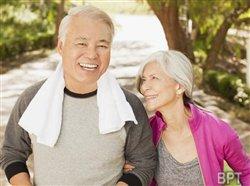 For baby boomers and beyond, a lot has changed since they first received their drivers' license, from car technology and traffic rules, to even road conditions. Many older drivers are taking a proactive approach to staying safe on the road. Most wear a seat belt – 77 percent of drivers age 65 and older according to the Centers for Disease Control and Prevention – and most obey the speed limit and avoid the road when conditions are bad. But a few surprising steps can help older drivers stay even safer.
Here are some top safety tips drivers age 50 and older should consider:
Enhance your exercise.
It's no secret that exercise is an important part of aging well, but did you know that the benefits extend to safer driving? Exercise can enhance flexibility and range of motion for older drivers, according to recent research by The Hartford Center for Mature Market Excellence and MIT AgeLab.
How can fitness help you become a better driver? Drivers in the study who exercise regularly reported greater ease in turning their heads to see blind spots when changing lanes or backing up. The study also found that drivers who exercised were able to rotate their bodies further to scan the driving environment while making right hand turns and they were able to get into their cars more rapidly, demonstrating increased overall flexibility.
Exercise for your health, as well as your safety on the road. Try strength exercises like bicep curls and squats, range-of-motion exercises like back stretches and heel drops, flexibility exercises like shoulder stretches, and coordination exercises such as rotating leg kicks. More information on the connection between fitness and safe driving, including an exercise guide and informational video, can be downloaded at www.thehartford.com/lifetime.
Take a driver safety course.
The rules of the road are constantly changing. Even experienced drivers can benefit from brushing up on their skills. Taking a safe driving class is a simple way for older drivers to keep their skills sharp so they stay safe on the road.
One popular option is the AARP Driver Safety course. Available across the country in a classroom setting as well as online, the course serves as a refresher about the rules of the road and provides valuable tips about defensive driving techniques. AARP membership is not required and there is no test to pass. Plus, some states require insurance companies to provide a multi-year discount for those who complete the course. Consult your insurance agent for more details. Visit www.aarp.org/drive to learn more.
Prioritize your vision.
Driving well means seeing well, so it's smart for older drivers to prioritize their vision needs. Starting at age 40, individuals are more likely to experience blurred vision, difficulty seeing at night and changes in color perception, according to the American Optometric Association. Start by scheduling an appointment with an optometrist who can examine your eyes for and medical conditions like glaucoma and macular degeneration as well as provide you with a current prescription. When driving, always wear up-to-date prescription glasses with narrow side pieces that don't block peripheral vision. Keep sunglasses in the vehicle as well, so bright days don't deteriorate your visibility.
In addition to high-quality glasses, position yourself to see as much as possible in your car. Adjust the seat so that you are at least 10 inches away from the steering wheel, and can see at least three inches over the top of the steering wheel. Adjust rear and side mirrors appropriately to minimize blind spots. Keep headlight and window glass clean – dirt and grime can make the road appear hazy.
These little-known tips can help keep older drivers safer when behind the wheel. From taking a course to staying healthy, older adults can enjoy the freedom of the open road while keeping themselves and others safe.