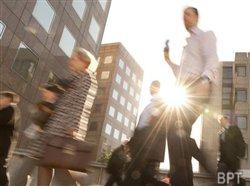 Even as the country moves out of the great recession, many Americans are still in a money-saving mode – looking to conserve wherever possible.
Good news. There are simple ways to save money especially if you go back to the time-honored concept of BYO – "bringing your own" container of coffee, lunch or water as part of your daily routine. This can do a world of good not only for your pocketbook, but also for the environment, and even your health. Here are some tips to get you started:
* Bring your own coffee or tea
According to the Environmental Protection Agency, Americans throw away 25 billion foam cups each year. And 500 years from now, those cups will still be sitting in a landfill. Despite the convenience of foam cups, small changes such as bringing coffee or tea in a reusable container can have both an environmental and economic impact.
For example, Genuine Thermos(R) Brand makes a vacuum insulated commuter bottle that will keep a beverage hot for eight hours or cold for 12 hours. Not only is this great for a day at the office or running errands around town, it saves the cost of purchasing beverages day in and day out. If you still like an occasional custom-made coffee or chai latte, some retailers will fill your own bottle.
* Bring your own lunch
Many grownups still have fond memories of a school lunchbox featuring their favorite TV or movie character. Bringing your own lunch in an insulated lunch carrier is a good way to keep your favorite foods fresh and tasty, and a smart way to save money. According to a report in Time magazine, bringing your lunch to work can cut your weekly costs by 80 percent.
To keep foods fresh while on the go, insulated reusable containers are an ideal option. They come in all shapes and sizes to keep snacks or lunch foods hot or cold for hours, saving you the cost of going out and making it easier to stay away from unhealthy temptations.
* Keep yourself hydrated
As you get in the habit of bringing your own reusable portable container, don't neglect the one thing every human needs for basic good health – water – to help you hydrate throughout the day. According to the Mayo Clinic, water makes up about 60 percent of your body weight. Lack of appropriate water intake can lead to dehydration, draining your energy and making you feel tired.
The Institute of Medicine determined that adequate water intake for men is roughly 104 ounces and is roughly 72 ounces for women. Instead of purchasing bottled water in containers that will also end up in landfills, bring plenty of your own water in a portable, reusable container. One easy option for quenching thirst while on the go is the 24 oz. Hydration Bottle with Meter that is made of BPA-free Eastman(TM) Tritan and has a rotating meter built into the lid to help keep track of your daily water consumption.
Embracing the bring-your-own mentality can make a world of difference economically and environmentally. So, take the first step to "bringing your own" on May 23, which is the inaugural National Fill Your Thermos Brand Bottle Day, and celebrate the doing-good and money-saving power of the reusable container.