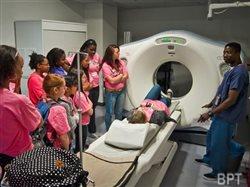 Pursuing a career in science, technology, engineering or math (STEM) subjects opens plenty of exciting and challenging opportunities for today's students. Many of these opportunities exist in the Navy, including technically challenging missions that require intelligence and critical thinking.
These careers can range from working on the world's most complicated and best anti-air and anti-missile systems to developing the next generation of vaccine technology. Talented, committed individuals with a STEM education will be critical to maintain the U.S. as a world technology leader.
Demand is high for STEM-related employment, thanks to more than 50 percent of the Navy's scientists, engineers and related disciplines qualifying for retirement by 2020, as well as the projection of 1.2 million new STEM jobs created over the next five years. The Navy is committed to working to ensure there is a qualified STEM workforce in the pipeline.
As part of this commitment, the U.S. Navy is partnering with organizations across the U.S. to help promote an interest in STEM subjects among elementary to college-level students. The Navy STEM for the Classroom tool is also available for teachers and students, providing lesson plans and interactive tools to increase learning in these subjects.
One program incorporating STEM subject learning with real world experiences is the SeaPerch program, an innovative underwater robotics program sponsored by the Office of Naval Research that connects students and teachers inside or outside the classroom to construct an underwater Remotely Operated Vehicle (ROV).
Students will follow an established curriculum to physically build an underwater robot from a low-cost, standard kit, learning important lessons like:
* Ship, submersible and submarine design (Naval architecture)
* Maritime and ocean engineering principles
* Robotics
* Problem-solving
* Teamwork
Each underwater ROV creation can be tested against others in organized competitions across the country.
Students with a background in STEM courses have the opportunity to work with some of the most awe-inspiring ships, submarines, air craft and communications systems in existence, develop unmanned vehicles and robotics that keep people out of harm's way, and pioneer advances in everything from nuclear propulsion to biofuels to medical research. A STEM-related career in the Navy provides almost limitless possibilities for leadership and relevant experience.
In addition, enlisting in the Navy allows students interested in STEM subjects to continue their learning with ongoing development opportunities during nearly all stages of their career in the Navy. These opportunities include:
* Navy Reserve Officers Training Corps (NROTC) scholarship program
* Naval Academy is the undergraduate college for the Naval Service and allows a student to become a midshipman while learning about the Navy's rich history
* Nuclear Propulsion Officer Candidate Program which offers up to $ 168,300 for students finishing a degree in math, engineering, physics or chemistry, and allows them to begin the process of becoming a commissioned Navy Nuclear Officer
* Civil Engineer Collegiate Program gives students pursuing civil engineering degrees the opportunity to pursue projects around the world right out of college. This program also offers up to $ 113,100 while finishing a college degree
For more information about opportunities to serve in the Navy, call 866-408-1241 or visit navy.com.