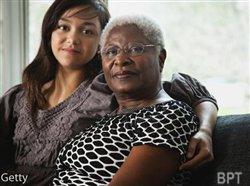 Family members can have many things in common, including physical characteristics and personality traits. While some traits are obvious, like having red hair or blue eyes, some shared traits are not as obvious, such as the risk for developing a common medical condition, like high cholesterol, or a rare disease.
A rare disease is one that affects fewer than 200,000 people, and about 30 million Americans have one of 7,000 known rare diseases. Because about 80 percent of rare diseases are genetic in origin, knowing one's family history is an essential part of the recognition and diagnosis of these conditions.
Unfortunately, it's not uncommon for family members of someone diagnosed with a rare disease to go untested, which could delay getting an accurate diagnosis and potentially appropriate medical attention. Families should keep an open line of communication about diseases that may be genetic and if appropriate, encourage their relatives to seek evaluation by a knowledgeable medical professional. Nikia, 32, who is living with a rare swelling disease called hereditary angioedema (HAE), knows firsthand the importance of familial testing.
HAE is a genetic disease that affects about 6,000 people in the United States. The disease causes repeated swelling attacks that can occur anywhere in the body, including arms, legs, hands, feet, stomach, genitals, face and throat. HAE attacks can be unpredictable, painful, debilitating and disfiguring. The average HAE patient endures about 10 years of repeated misdiagnoses before the disease is accurately identified. Along with a blood testing, a comprehensive family history can help accurately diagnosis HAE. Often, people who are diagnosed with HAE report having relatives who suffered their whole lives from severe stomach aches or unexplained episodes of swelling, or even relatives who died unexpectedly due to throat swelling, who likely had HAE but were never accurately diagnosed.
Nikia was first diagnosed with HAE when she was just 5 years old, after experiencing severe swelling all over her body. Nikia's mother had also suffered from bouts of unexplained swelling throughout her life, but because her attacks were less severe and only occurred in her feet, she never sought medical attention. It was Nikia's cousin who eventually encouraged her mother to get tested for HAE, and three years after Nikia was diagnosed, her mother's testing indicated that she also had HAE. Because of her cousin's persistence, Nikia's mother was finally able to understand the cause of her own unexplained swelling episodes and received medical attention that helped her manage her attacks.
Understanding the likelihood that she could pass HAE on to her children, Nikia had both of her children evaluated for the disease. Although her daughter was not diagnosed with the condition, her son eventually was. When Nikia's son was about 3 years old, he was frequently being sent home from school for nausea and vomiting. Nikia, who had experienced similar symptoms as a child, recognized the likelihood that it could be due to HAE. Testing confirmed that her son did, indeed, have the disease.
"When my son was diagnosed with HAE, I wasn't afraid or sad," says Nikia. "It gave me the spirit to further educate myself and other health care providers so that they could potentially help someone else by getting an earlier diagnosis. I learned as much as I could about the HAE landscape so that I could be the best advocate for my son.
Today, Nikia dedicates much of her time to staying up to speed on new information or medical advances in HAE and spreading awareness of the disease amongst her family, friends and community. She shares the new information she learns with her extended family and encourages members of her family to get evaluated for the condition. To date, she has prompted two cousins to undergo testing for HAE. It is her hope that her loved ones will also spread knowledge about the disease so that others may be properly diagnosed without having to endure years of untold suffering.
"Even though some of my family members have been tested for HAE and the results came back negative, they are now educated about this disease and can help raise awareness among others," says Nikia.
To learn more about HAE and to access helpful tools for families impacted by HAE, visit www.HAEandMe.com, an online resource for people with HAE, their friends and family members that offers tips and advice for people of all ages. To find a health care professional, visit www.HAEA.org, the official website of the U.S. Hereditary Angioedema Association.