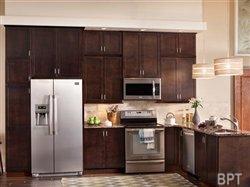 Take a look around your home and think about which spaces you use most. If the kitchen made the list, you're not alone. For most homeowners, the kitchen is the heart of their home, and all the time spent there likely causes a fair amount of wear and tear. If this sounds like your kitchen, it might be time for a remodel.
While the National Association of Home Builders finds that home remodeling is at its highest level since 2005, homeowners are still being understandably cautious with their investments. The good news is that no matter the size of your budget, there are cost-effective ways to update your kitchen to revitalize the center of your home.
1. Yes, you can update your cabinets
The most dramatic change you can make in your kitchen is to update the cabinetry. But for many, the thought of new cabinetry equates to a budget breaker. According to Sarah Reep, design lead for QualityCabinets, it certainly doesn't have to be. "The key is to do your homework and find a brand that offers the trifecta of style, function and affordability," says Reep.
To keep pace with consumer requests and spending, QualityCabinets recently expanded its budget-friendly Woodstar line to include additional in-demand finish options, door styles and accessible design features. "Homeowners want to stay on budget without compromising on style or function. We designed this line so they don't have to," says Reep.
2. Set the stage with a beautiful backsplash
Another affordable way to make a statement is by updating or adding a backsplash. "A backsplash is a subtle way to update your kitchen. Choose clean white subway tiles or add some drama with interesting patterns or colorful glass tiles," advises Reep. Home improvement stores like Lowe's or The Home Depot carry DIY tile kits in a variety of colors that are fairly simple to install yourself. Additionally, stylish, removable tile decals can help jazz up your walls quickly without the cost and commitment of tile.
3. Everything but the kitchen sink
Not quite. The sink is one of the most frequently used features in a kitchen but easily ignored. Updating your kitchen sink to serve as a focal point of the room can do wonders for your space. A beautiful apron-front sink or sleek new faucet can create a dramatic update to your kitchen and provide that attention-grabbing "wow" factor. Pair it with a new coat of paint or light fixtures that complement your design vision and you'll be amazed by what you can accomplish.