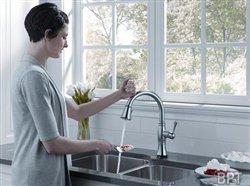 Home cooks are spending more time in their own kitchens and less time dining out, according to the January Monthly Measuring Cup Trend Report. Nearly half of surveyed consumers said they're dining out less this year than they did in 2012 and are relying more on their cooking skills at home. Fortunately, technology makes it easier than ever for home chefs to prep and cook meals at home and clean up conveniently and efficiently afterward.
"People seem to be enjoying the cooking experience again. With all the kitchen tools and equipment available today, it's becoming even easier for consumers to recreate a restaurant-quality meal at home," says Bob Rodenbeck, research and development director at Delta Faucet Company. "Smart innovations in the kitchen help support this trend by making it possible for aspiring home chefs to design their culinary creations while staying within budget."
Intuitive prep help
From automatic and voice-activated coffee makers to measuring cups that have built-in digital scales, new innovations are making common kitchen prep tools more intuitive. The research and design experts at Delta Faucet spent years studying home cooks before introducing Touch2O Technology in 2008, a first-of-its-kind tap-on and tap-off technology for kitchen faucets. With this technology, users can start the flow of water with a forearm or wrist when hands are messy, helping reduce the potential for cross-contamination.
Build-your-own cookbook
Devices like smartphones and tablets are replacing some of the traditional, dog-eared cookbooks and recipe boxes by delivering endless advice at the touch of a virtual button. Food-focused websites such as Epicurious and Allrecipes help cooks not only find new recipes but also allow users to save and organize recipes, read reviews, learn new tricks to enhance their dishes, and share their findings with others. In fact, three quarters of women say they are trying new dishes at home with inspiration from social sites inspired by beautiful visuals and ideas from different cultures, according to the Monthly Measuring Cup.
Smarter kitchen clean up
All that hard work in the kitchen doesn't end after the meal is done, and thanks to new, hard-working storage solutions like silicone containers, home cooks can store leftovers in a more eco-minded and versatile way. Silicone-based storage containers can withstand heat of up to 500 degrees, making them safer for microwave, dishwasher and freezer use. Not sure just how long last night's lasagne will remain fresh? New refrigerator and freezer technologies are incorporating food management systems to help keep track of the location and expiration dates of the food inside.
Eating in never looked so good for today's home chefs, who are getting new forms of support – from prep to clean up – thanks to smart kitchen solutions.