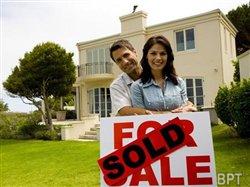 If you've been thinking about selling your home, there's no time like the present. House hunters come out of the woodwork in warm weather months and "for sale" signs pop up everywhere. Your job is to set your home apart from all the others. In most areas around the country, it's a buyers' market. So how do you get a leg-up on the competition?
Deborah Rossler, Interior Design instructor at The Art Institute of Dallas, a campus of South University, and Maryse Jospitre, Interior Design program coordinator at The Art Institute of Phoenix share the top five tips you can really use to turn that "for sale" sign into "sold."
1. Detach
You may love the outdated recliner that was passed down from grandpa. You may also think that lime green and fuchsia are the foundation for a great color scheme. But others may not. "Before you put it on the market, emotionally detach from your home," advises Rossler. Look at it from the buyer's point of view. Figure out what needs an update, a touch-up or an overhaul and then do it.
2. De-clutter
You want to open up the space to make it feel larger. While it's fine if your home has the "lived in" look, all the extra knick-knacks should be put away. Jospitre suggests renting a storage unit if your place is small. If you've got a garage or an attic, store your items there in plastic bins.
But do not shove all the extra stuff in your closets. People look in there, warns Rossler, and a messy closet tells potential buyers that there won't be enough room for their things either. The same goes for drawers and cabinets. Tidy them up and organize them neatly. Make sure your belongings aren't packed tightly because it will make the cabinet look smaller.
Free up the space on your kitchen countertop. A coffee maker and toaster are fine. But put away the blender, stand-mixer and popcorn maker. You might as well tidy up the bathroom counter while you're at it.
3. Go neutral
Neutral colors allow house hunters to visualize what the space will look like with their belongings. "Heavily saturated colors are overwhelming and don't go over well with prospective home owners," says Jospitre. If they dislike the colors, they will be put off by the space.
Rossler agrees that sellers should paint neutral colors that blend room-to-room. But she does make room for an exception: "If you're living in a trendy area where something out of the norm is expected, then a bright wall could be a welcome feature."
4. A little rehab and some heavy lifting
Does the carpet need to be replaced? Better yet, is there hardwood under the carpet you can refinish? Go for the latter, if that's an option. Buyers love a good hardwood floor. Get the fresh coat of paint on the walls if they're chipping or peeling.
Move furniture away from walls. A big couch against a wall looks frumpy and is not aesthetically pleasing. And remove extra furniture (this could also be filed under "de-clutter"). It's good to see baseboards and corners, which gives the room a more open and spacious feel.
5. Before the doorbell rings
Clean. Then clean some more. A dirty, dusty house is a huge turn-off. Don't forget to clean the light fixtures on the ceiling. And after you've done all that, do a quick 15-minute spruce-up before potential buyers walk through the door.
Open the curtains and blinds. Let natural light in. It makes the home seem cheery and bright. Of course, make sure the windows are clean too. Keep fresh flowers in a vase.
And don't forget the smell. A fresh smelling home is a big plus. Open windows to air the home out. Don't cook potentially pungent foods – like fish or garlic – before a showing. Instead bake some cookies or use an air freshener that smells like baked goods.