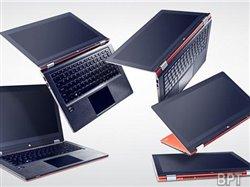 Whether it's an excited high-five, a sympathetic squeeze of the shoulder or holding hands while on a date, touch has always been a way for humans to express affection. Now, with advances in today's technology, we are also using touch to interact with the devices that keep us connected to the ones we love.
This Valentine's Day, instead of roses, chocolates or jewelry, why not give some tech love to your valentine with one of the latest touch-enabled Ultrabook convertibles or tablets. These Intel-powered gadgets are the perfect way to express your love and keep your loved one entertained and on the go long after February 14 passes.
The latest Ultrabook convertibles marry performance, responsiveness and sleek designs with a premium computing experience – laptop functionality when you need it and a touch-enabled experience when you want it. With a flip, slide or swivel of your convertible device you can transform your experience from laptop to tablet. Its ultra-sleek, lightweight form makes the Ultrabook convertible the perfect device for those who want to stay more connected.
Or, if you prefer something a little slinkier this Valentine's Day, perhaps an Intel Atom processor based tablet would be the right device for your loved one. These thin, highly portable devices have all-day battery life and are easy to use with advanced touch screen capabilities. Catch up with friends on a video chat, browse through the latest holiday photos on your favorite social networks or finish up some last-minute shopping, all while relaxing on the sofa.
With so many Ultrabook convertible and tablet devices to choose from you'll be sure to find the one that expresses your undying affection perfectly.
Here are a few for you to consider:
Dell XPS Duo 12 Ultrabook Like the Ferris wheel from a romantic movie this Ultrabook convertible's screen has an innovative flip hinge design that spins around to easily transition from Ultrabook to tablet. Also, with Intel Smart Connect Technology, your emails and social networks will seamlessly synchronize, keeping you connected when the device is in sleep mode while you enjoy your romantic Valentine's Day date.
Lenovo IdeaPad Yoga 13 Convertible Featuring a 360-degree flip-and-fold design, the Lenovo IdeaPad Yoga 13 Ultrabook can be used as a notebook and then quickly transformed to a touchscreen tablet. Flip it into tablet mode to read your favorite romance novel, fold it into tent mode to watch the latest romantic comedy, or use it in traditional laptop mode to type out some valentines for your friends and family.
ASUS Vivo Tab Want to feed your creative appetite and create your own Valentine's Day cards this year? This Windows 8 tablet running on Intel is the perfect device for your inner artist and comes equipped with a high-resolution widescreen display with color clarity that delivers an outstanding visual experience. It also supports the Wacom digitizer stylus that lets you create digital art and bring your romantic imagination to life. Plus, with Intel's latest file transfer technology, the VivoTab lets you seamlessly transfer all your creations between your tablet and other Windows devices.
EDITOR'S NOTE:
*Other names and brands may be claimed as the property of others.
Ultrabook(TM) products are offered in multiple models. Some models may not be available in your market. Consult your Ultrabook(TM) manufacturer. For more information and details, visit https://www.intel.com/ultrabook
Intel(R) Smart Connect Technology requires a select Intel(R) processor, Intel(R) software and BIOS update, Intel(R) Wireless adapter, and Internet connectivity. Solid-state memory or drive equivalent may be required. Depending on system configuration, your results may vary. Contact your system manufacturer for more information.