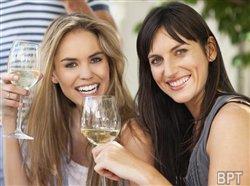 Whether it's in the backyard or on a rooftop, summer is an ideal time to entertain outdoors. The long days and warm nights create the perfect backdrop for a relaxing get-together with family and friends.
While most love the idea of entertaining, 62 percent wish they did so more often, according to a national survey conducted by Survey.com on behalf of Ecco Domani Wines of Italy. If you're one of those who wish they entertained more, but find the idea overwhelming, below are simple things you can do as host or hostess that will make all the difference in the world.
* When entertaining, greet your guests with a glass of wine upon arrival – more than half of hosts do, according to the survey. The bright fruit flavors and fresh, approachable style of Ecco Domani Pinot Grigio is an effortless complement to any outdoor party. Its light citrus and delicate floral aromas also make it the perfect partner to a wide range of foods.
* Cheese and crackers are a go-to for any savvy host. Add fresh fruit like apple slices and grapes and you have easy options for your guests to munch on while they mix and mingle. If you have more than one type of cheese, try labeling them in a unique way. Attach a name tag to a toothpick and stick it into an extra apple or into the cheese directly. Your guests will appreciate the extra touch!
* Your table settings don't need to be fussy. Keep it trouble-free by using things your already have in your home, but make it fun by mixing and matching your plates. The eclectic assortment will add color and pizzazz to your table. Top off the arrangement by using cloth napkins for a simple, but elegant, touch of style.
* Serving great wine and food will make an impression on your guests. In fact, three in four people think it's the wine and food selection that elevates an occasion from ordinary to extraordinary, according to the Ecco Domani survey. Since the grill is a summer staple, choose a refreshing wine that complements grilled meats. For instance, Ecco Domani Moscato will not only pair well with the spicy barbecue, but its light, approachable taste will appeal to all of your friends. For an effortless pairing, try it with Spicy Grilled Chicken Skewers:
Spicy Grilled Chicken Skewers
Ingredients:
8 bamboo skewers
2 tablespoons sugar
1/4 cup soy sauce
1/4 cup cider vinegar
1/4 cup water
1 tablespoon grated fresh ginger
1 tablespoon Sriracha chili sauce
1 teaspoon minced garlic
1 pound chicken breasts, cut into 1/2 inch strips
Vegetable oil for brushing
Directions:
Soak the bamboo skewers in water for 20 minutes. Combine the sugar, soy sauce, cider vinegar, water, ginger, chili sauce and garlic. Thread the chicken strips onto the bamboo skewers. Heat a grill or grill pan to medium-high heat. Brush the chicken skewers with the oil and place on the grill. Brush a few times with the marinade. Turn after 4 minutes. Brush with the remaining marinade, and grill until just cooked through, about 8 minutes.
* End your dinner on a high note by offering your guests something simple and sweet for dessert. For an easy way to make the dish unique, consider serving dessert in glasses you already have around your home, such as martini or wine glasses. You can build layers of fruit and ice cream within the glass to create a treat for the eye, as well as the lips.
* When dining outdoors, the taste of food and drink is enhanced by scents in the air. Placing aromatic plants such as basil, rosemary, and lavender around the patio will help bring the scents of summer to your table. For an added touch of freshness, you can use the same herbs as ingredients in your food.
No matter what time of year, good food, good drinks and good company are entertaining essentials. Invite family and friends over to enjoy the warm weather this summer, and these easy entertaining upgrades will encourage them to stay well after the stars come out.
(Italian Table Wine (C) 2013 Ecco Domani(R) USA, Hayward, CA., All rights reserved.)