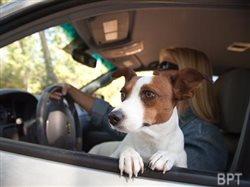 It's only natural for man's best friend to stay close by his master's side, but for dog owners who drive frequently, bringing Fido along for the ride can be risky. The problem is particularly worrisome for older drivers; a recent study conducted by researchers at the University of Alabama at Birmingham showed that for people 70 years and older, crash rates were higher among those who frequently drove with pets in the car. But for many drivers, leaving precious pets behind isn't an option. The best compromise is to find solutions that will get you from point A to point B without compromising the safety of human or animal passengers.
Distracted driving is a growing concern and a loose pet in the car certainly numbers among the potential hazards that can take your eyes – and mind – off the road and lead to accidents. While older drivers might not be as likely to be distracted by texting or smartphone surfing, even those who have spent many years navigating the roads need to honestly assess how having a pet in the car can divert their attention away from the road.
To stay safe on the road when Fido is with you, remember these tips:
* Don't allow pets in the front seats. Having a pet sit on your lap is obviously distracting, but if he's in the front passenger seat, the problem can be just as bad. In the front seats, your pet is more likely to be within your line of sight and obstruct your view of the road. An unrestrained dog in the front seats could also be easily injured if you have to slam on the brakes or swerve, or are hit from behind. The force with which airbags deploy also poses a safety hazard for dogs in the front seat – if you're in an accident and they inflate and hit your dog, he could easily sustain an injury.
* Create separation. There are a variety of pet barriers on the market that can keep your pet from moving between the front and back seats of your car. Installing a barrier will help keep your pet out of your way and diminish concerns about him being propelled forward in case you have to make a sudden stop.
* Restrain your pet. There are a number of options for pet restraints in your vehicle. Pet seatbelts and car seats will help keep a dog safely in place. Keeping a crate in the car is also a good option. Make sure it's secured and large enough so that he can stand up, turn around and comfortably sit or lay down. Add a soft pad in the bottom of the crate and it might just become your pet's favorite new way to travel.
* Brush up on your driving skills. Today's driving environment is probably very different than it was when you first got your license. A refresher course, like those offered by AARP Driver Safety, is an ideal way to ensure that your skills are up to date. Brushing up on defensive driving techniques and the essential rules of the road will help keep everyone in your car safe – and you may even qualify for a multi-year automobile insurance discount from your insurance company (check with your agent for details). AARP Driver Safety courses are available in a classroom or online setting, in both English and Spanish.
Pets are important members of the family, so it's only right that drivers consider their safety, just as they would for any other passenger. For more safe driving tips and information about AARP Driver Safety, visit www.aarp.org/drive.