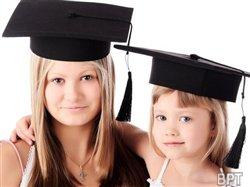 Do you have a child in your life who will be graduating this spring?
Whether it's from kindergarten or college, graduation marks the completion of one chapter in a young person's life and the start of a new adventure. Honor your grad's achievement by helping him or her save for the future with a digital U.S. Savings Bond.
"Graduation season is a time of celebration and great pride for families. In preparation for this milestone achievement, we encourage parents to consider opening a TreasuryDirect account for their child within their own primary TreasuryDirect account, so the gift of savings bonds can be given by relatives or friends who want to contribute to a young grad's future," says Jerry Kelly, national director of the U.S. Department of the Treasury's Ready.Save.Grow. campaign.
Savings bonds are a great gift choice for a child of any age. They're a low-risk way to save, and offer steady accumulation of interest.
Additionally, interest earned from savings bonds is exempt from state and local income taxes, and may also be exempt from federal income taxes when used to pay for qualified higher education expenses.
If there's a special child in your life, read on for helpful information about gifting savings bonds.
Opening a TreasuryDirect account
Parents – need help setting up a TreasuryDirect account for your child? If your child is under the age of 18, you'll first need to establish your own account, then open your child's account within your account.
TreasuryDirect is the Treasury Department's secure, online system where you can safely buy, manage and redeem digital savings bonds and other Treasury securities.
Ready.Save.Grow. provides information and tools to help people sign up for a TreasuryDirect account, including a tip sheet and a guided tour, at www.treasurydirect.gov/readysavegrow.
After your TreasuryDirect accounts have been opened, your child is ready to receive digital savings bond gifts for birthdays, graduations and other special events.
Giving a digital savings bond gift
Consider contributing to a child's college fund or other financial goal with a digital savings bond gift bought through TreasuryDirect.
The first step in giving a savings bond as a gift is having the gift recipient's name, Social Security number and TreasuryDirect account number.
Ready.Save.Grow. offers resources to help you give a savings bonds gift in TreasuryDirect, including a graphic that walks you through the most important steps. You can also print out a step-by-step tip sheet and watch an overview video. Visit www.treasurydirect.gov/readysavegrow to access these tools.
Commemorating the occasion with a gift certificate
TreasuryDirect.gov offers a variety of themed gift certificates for graduation, birthdays, holidays and other events. Simply print your favorite and present it to the gift recipient in a card or envelope to signify your savings bond gift.
For more information
Ready.Save.Grow. helps people take control of their future by providing information and resources about the safe, affordable savings options offered by the Treasury Department. Visit the Ready.Save.Grow. website, www.treasurydirect.gov/readysavegrow, to learn more or follow the campaign on Facebook or Twitter @ReadySaveGrow.
The preceding information was provided by the U.S. Department of the Treasury, Bureau of the Public Debt.
TreasuryDirect is a registered mark of the U.S. Department of the Treasury. Ready.Save.Grow. is a service mark of the U.S. Department of the Treasury.