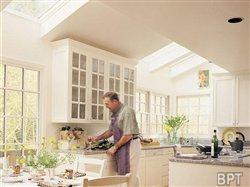 Do the words "aging in place" and "home improvement" conjure images of institutional-looking grab bars in bathrooms and overhead kitchen lights that could illuminate an airport runway? Many people eschew certain types of home improvements for the same reason others refuse to wear hearing aids – the negative connotations of age.
Changes in mobility, vision, hearing and stability are a reality of growing older for many Americans. Certain types of home improvements can make your home safer and more comfortable as you age, allowing you to live there longer. From lovely skylights that fill rooms with vision-friendly natural light and fresh air to slip-resistant flooring in designer colors, those "aging in place" home improvements can be beautiful as well as functional.
Here are a handful of aging-in-place upgrades that shout "fabulous" instead of "fogey":
In the kitchen
We all spend a great deal of time in the kitchen, and it's the room where we also do the most work. Upgrades that improve your ability to reach important appliances, enhance vision and boost safety will help you use your kitchen more efficiently for as long as possible.
Age-related vision changes can necessitate increasing the amount of light in your kitchen. Task lights and under-cabinet lighting can focus illumination where you need it most, and hide discretely out of sight without disrupting the clean lines and unmarked beauty of kitchen cabinets.
Overhead lighting is also important, but rather than opting for industrial-type lights that may cause harsh glare, consider introducing natural light. Research published in the British Journal of Ophthalmology suggests that natural light may be better for aging eyes than artificial light. A skylight is an upscale, beautiful home improvement that can benefit boomers with natural light.
Skylights can also help improve indoor air quality. Most exposure to environmental pollution occurs by breathing indoor air, according to research by the Greenguard Environmental Institute. No leak solar powered fresh air skylights, like those made by Velux America, not only provide healthful natural light, they also provide passive ventilation to reduce fumes, humidity and stale air – improving overall indoor air quality.
You can increase a skylight's energy efficiency with solar powered blinds. The complete daylighting system, plus installation, is eligible for a 30 percent federal tax credit. To learn more about these Energy Star-qualified skylights, visit www.veluxusa.com. The website offers a skylight planner app to show you exactly how skylights and blinds will look in your home, as well as a tax credit calculator to figure your savings.
In the bath
Falls are a leading cause of injuries that result in hospitalization of older people. Most falls in the home occur in the bathroom, so taking precautions in this much-used room makes sense. Like them or not, grab bars improve safety in the bathroom. Fortunately, bathroom fixture manufacturers seem to understand the need for products that blend safety and beauty. It's now easy to find grab bars in a variety of attractive finishes and designs that complement your interior decor.
Lighting is also important in the bath, and a fresh air skylight can be beneficial in this room. Skylights provide natural light and passive ventilation while ensuring privacy in the bath. If your bathroom is on the ground floor, without direct roof access, you can still enjoy natural light by installing a Sun Tunnel tubular skylight.
Flooring is another opportunity to blend beauty and practicality in the bathroom. Replacing slick, traditional ceramic tiles with slip-resistant flooring such as stone, vinyl or textured ceramic tile, can be visually pleasing and safety-enhancing at the same time.
Outside the house
Navigating from the car to the front door can be fraught with peril for older folks, yet many people dislike the way certain assistive devices, like ramps, look in front of their home. If you're not ready to add a ramp, a decorative railing for outdoor stairs is a great alternative. It's easy to find good-looking options and virtually any home contractor can help you create a railing that meets your safety needs and meshes well with your home's exterior design.
Outdoor lighting is also important for safety. Make sure walkways are well lit with low lamps that put illumination directly at your feet. New high-output solar lights are a great way to effectively light a path while minimizing energy costs. Finally, keep concrete sidewalks and brick pavements in good repair. Take care of uneven spots or loose pavers right away, to reduce the risk of falling outside.